Depending on your situation you may require a router that has more capabilities than your average router. Have a large area you want covered with a stable connection or receive a large amount of guest activity while gaming? Your average router has specifications that can cover a large area to a certain extent. Wi-Fi connections can become unstable or staggered because of the hardware and software limitations.
I already covered what the best gaming router under 100 dollars is in a previous review. Interested check it out here.
In this review we are going to go over what is the best gaming router under 300 dollars, before getting things started it is important that I go over what you can expect from routers within this price range. A router under this price range will have slightly more features than your average router. This does not equate to a faster or the fastest Wi-Fi connection. Optimally more features will allow a heavier load of traffic on a network without fear of lag for any device connected. The reality is most fail to do even the most basic function such as being compatible with most devices.
We will begin with what to look for in a router within this price range. Next now that we know what to look for we can understand the key specifications of the ASUS RT-AC88U 802.11AC3100 Dual Band Gigabit Wi-Fi gaming router with MU-MIMO and their function. Wow what a mouthful you would imagine the names would be kept a bit more understandable for your average person. Well finally we end with what makes the ASUS RT-AC88U 802.11AC3100 Dual Band Gigabit Wi-Fi gaming router the best.
What to Look for in a Router and why.

In this 300 dollar price range we can find so many router models. It can get overbearing when researching. To keep things short and simple I narrow it down to versatility and simplicity.
A router that is not dependent on having the latest devices or oldest devices is ideal. Having a simple setup and console management to a network is going to save you time and frustration when you have to work with your router.
Both are important because they help prevent problems that are typically seen in a network. For example troubleshooting frequent disconnections or staggered connections.
Something that is crucial to understand going forward is that routers in this price range will only offer wider Wi-Fi coverage and make a large amount of network traffic function more smoothly.
Routers in this range are best for covering large homes that receive a large amount of online activities such as streaming 4K while someone is playing a video game that requires a consistent bandwidth frequency.
How do you know a router is versatile while keeping simplicity for the user mind? It's easy we take a look at some key specifications. Looking at these will help understand the capabilities and whether it will better your situation.
Key Specifications of ASUS RT-AC88U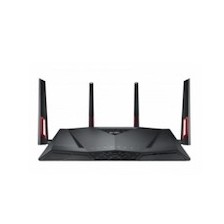 The ASUS RT-AC88U stands out as a wireless gaming router because of its specifications. A large home where many devices are constantly active would be the ideal scenario where this router shines. Even you were to spend a couple a hundred more dollars you would be paying for connection coverage and stability not connection speed.
Wireless coverage and stability are the only two items that upgrade with this price tag which is not a bad thing but certainly confusing. Normally people are under the impression that the more you pay for an item the better it is. Well this is good example where that idea gets smacked in the face by itself. A router that is more expensive does not make it the best. It depends on your perspective and primarily your situation.
I keep reiterating how routers in this range will provide benefits but only under the scenario that there is a very large area that you want covered. You know this area will constantly be active be it streaming, downloading, uploading, gaming, or surfing the web all while you play video games so ideally you want a router that can provide a stable connection for every device.
Now we have a clear picture of what a router in this price range is intended for. Without further delay let's take a look at the specifications and their function.
NitroQAM Technology – Seamless experience
Technology that delivers a total 3167 Mbps Wi-Fi speed.

Provides a large flexible wireless connection for every device.
Adaptive QoS – Prioritize your game
A feature that allows prioritizing gaming packets and activities and assigning full dedicated bandwidth while gaming under gamer solo mode

With this feature you get to place whatever system you use for gaming at the top of your network list meaning it will receive the most stable connection your network can provide at all times.
Free up PC system 'resources' during gameplay – Ever play roulette take a gamble (sarcastically)
CPU is a valuable resource for gaming so why not have your anti-virus and third-party apps shut off so you can get the most out your system's CPU.

With AiProtection you can relax worry free as you spend all available resources your system can offer on gaming.
Bandwidth for all – Supports multiple devices and streaming in 1080p simultaneously.
Devices of all kinds are able to connect easily without slowing down the network or causing lag while someone plays an online video game.

This is under the assumption that the network is kept within reason, if 30 devices are connected to the same network all doing different activities aside from streaming 4K than this router will function properly. If every device is streaming 4K than perhaps look for the best gaming router.
What makes this model the best?
On the surface it may seem like wireless type and
features do not make a difference but they do. Case in point not every wi-fi
network needs a 500 dollar router upgrade.
The difference between a $100 router
and $300 router is in capabilities not performance. A $300 dollar router will
not create a faster a network but it can make the network more reliable and
increase the range it covers that's it.
The ASUS RT-AC88U 802.11AC3100 is the best because it is capable of providing a stable connection to a large area. It achieves this by utilizing AiRadar and beamforming. Both help direct the Wi-Fi connection towards your devices.
The Blue Cave Console is easy to work with making network setup and management simple no need to be an IT professional.
The wireless types that are supported and their data rate:
802.11A – 6,9,12, 18, 24, 36, 48, 54 Mbps
802.11B – 1, 2, 5.5, 11 Mbps
802.11G – 6, 9, 12, 18, 24, 36, 48, 56 Mbps
802.11N – Up to 600 Mbps
802.11AC – Up to 1734 Mbps
IPv4 – 1024 QAM (2.4Ghz) – Up to 1000 Mbps
IPv6 – 1024 QAM (5Ghz) – Up to 2167 Mbps
All of these types work as intended under the correct circumstances. 802.11AC for example works best with gaming systems and devices from 2013 and up. 802.11AC will accommodate most Wi-Fi plans easily. I would cover the rest as interesting as it for me but I'll spare you of my rambling.
In my honest opinion the ASUS RT-AC88U dual band gigabit WiFi gaming router with MU-MIMO is the best gaming router under 300 dollars.
Hopefully I have managed to help in some way or another. If you have any further relevant questions or comments feel free to drop it below in the comments section.
ASUS RT-AC88U 802.11AC3100 Dual Band Gigabit Wi-Fi Gaming Router Rating
Features

Versatility

Simplicity
ASUS RT-AC88U 802.11AC3100 Dual Band Gigabit Wi-Fi Gaming Router Rating
Product Review: ASUS RT-AC88U 802.11AC3100 Dual Band Gigabit Wi-Fi Gaming Router
Product Description: A Wi-Fi gaming router that excels at providing stable Wi-Fi coverage for a large area. Games that require a consistent bandwidth connection go on lag free regardless of the network activity. This gaming router is the best because it creates a reliable low latency connection for video game systems. Note this router does not make the Wi-Fi connection faster but rather more reliable. The actual performance will vary based on the network circumstances and surrounding factors.
Availability: Check a local retailer for latest availability.