What is the best gaming router under 100 dollars? There are so many available it can get overwhelming trying decide. All technical terminology aside you want a router that can optimize your connection while being able to provide a stable network. How about a router that can do both and cover a long range through your house? You end up with more questions than answers when researching.
To make things easier I am going to break it down in three different ranges. Today we are going to cover what is the best gaming router under 100 dollars. Most of the time a router's true capabilities gets lost in all the advertising.
A 500 dollar router may have slightly more features for Wi-Fi but what really matters is latency. What is unfortunate is latency will not improve by that much with a simple upgrade of your router. Interested to find out more about latency? Check out my post right here.
First I explain what makes a router the best within this dollar range. Next we discuss the key specifications of the TP-Link AC1900 MU-MIMO Dual-Band Wi-Fi router. With both of those topics done with we can go over why this TP-Link Wi-Fi router model is the top choice.
What makes a router the best?
Versatility is the key component in making a router the best. While wireless network is a fun subject for me to talk about it is not for many so I will try my best to make it short and sound less boring than what it is.
Your router is a part of your point of presence or POP. A point of presence is a collection of modems and other equipment in a local area. In most cases just a modem, router and whatever ISP or Internet Service Provider you choose. Your POP behaves like a local gateway to your ISP's network.
So what does all that nonsense mean and how is it relevant? Well this means that your router serves as an access point. This is relevant because an access point is a station that sends and receives data to and from a Wi-Fi network.
Each router has a wireless standard or type. Depending on the wireless type your Mbps and range of coverage will vary. Sometimes a router will support multiple types other times they will support only one single standard.
802.11b is a wireless type that allows transmission of data at up to 54 Mpbs for 300-500 feet from an access point. The 802.11n type permits up to 140 Mbps. There are all types of wireless standards the list goes on.
This is why I said versatility is crucial towards making the best router. The more wireless standards a router supports the better. In most places ISP options are limited. Having a versatile router can help make things go much more seamlessly.
TP-Link AC1900 Archer A9 Key Specifications.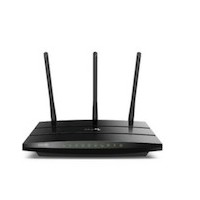 There are other key specifications that help determine a router's versatility. The TP-Link AC1900 MU-MIMO Dual-Band Wi-Fi router helps to encapsulate this idea with its key specifications down below.
802.11ac Wave2 Wi-fi – 600 Mpbs on the 2.4 GHz band and 1300 Mpbs on the 5GHz band.
Dual-band Wi-Fi and Wave2Wi-Fi MU-MIMO combined are able to support a broad range of devices and traffic up to 1.9 Gbps. Gaming and streaming 4K are able to performed lag free.
MU-MIMO Technology – Three simultaneous data streams help your devices achieve optimal performance by making communication more efficient.
Features such as Airtime Fairness and QoS work together in the background optimizing your network traffic.
Boosted Wi-Fi Coverage – Beamforming technology delivers a highly efficient wireless connection.
The beamforming technology and three external high gain antennas allow for a wide and consistent coverage.
Beyond Security – The Archer A9 goes beyond traditional network security to provide features such as Parental Controls, Access Control and a VPN server.
Controlling your network security is made easy with all three features. The firewall is a mandatory feature and the guest network is a nice additional feature.
Intelligent Connection – Smart Connect directs clients to less congested bands and AirTime Fairness optimizes the time usage.
Smart Connect automatically optimizes your device's connection by switching it to the fastest Wi-Fi band. AirTime Fairness prevents older devices from slowing down your Wi-Fi, ensuring a lag free network.
Alexa and IFTTT – Turn on guest Wi-Fi with Alexa voice control and use IFTTT to trigger actions whenever devices connect or disconnect from your network.
Take even more control of your network with voice control and IFTTT. What is nice is that this an optional feature.
Why This TP-Link Wi-Fi Router Model is the Best.
The versatility this router offers is a great value for the price. Versatility is important to have in a router so you can have an adaptable network. This is better to have when you have a wide range of devices connected to the network. Ideally this router would perform best within a small home.
Having an Alexa device connected to this router is completely optional and only required for using the voice control feature. The only downside is if you do not already own an Alexa device and you want to use the voice control feature you would need to purchase an Alexa Device. That bumps up the price to slightly over a 100 dollars.
Now I know the whole point of this was to be under 100 dollars but the features and transmitting power this router has is certainly worth adding a couple more bucks as opposed to a couple a hundred.
Setup and management can be easily achieved through TP-Link's web interface or the tether app. The tether app allows you to manage your network settings on your mobile devices as well.
Simplicity and versatility are what make this Wi-Fi router stand out. Simple for users to set up and mange. Versatile enough that it can keep up with a broad range of network activity all happening at once.
Keep your router needs to the basics and you should have no trouble finding the right every home network is different. Every network should have a router that can accommodate your networks traffic reliably. That's my answer hope it helps. Have any relevant questions or comments feel free to drop it below.
TP-Link AC1900 MU-MIMO Dual-Band Wi-Fi Router Rating
Features

Versatility

Simplicity
TP-Link AC1900 MU-MIMO Dual-Band Wi-Fi Router Rating
Product Review: TP-Link AC1900 MU-MIMO Dual-Band Wi-Fi Router
Product Description: This router can get the most out of your network utilizing all kinds of included features. From high speed dual-band to optimizing your device's connection. You can play video games peacefully knowing your stability, coverage, and speed of your device's connection stays reliable regardless of other traffic activity on the network like a device streaming in 4K. Practical reasons aside this wi-fi router has nice aesthetic design making it look as capable as it is.
Availability: Check a local retailer for latest availability.