Battlefield 1 was released for the Xbox One, PS4, and Microsoft Windows PC platform. Multiplayer gameplay stays the same across consoles. The PC platform differs only in lobby size compared to the console platform. There is no crossplay for Battlefield 1 so all platforms are divided.
Although a campaign is included most people usually play just for the multiplayer aspect.The current state of Battlefield 1 on the Xbox One platform is looking dim for a three year old game no longer receiving dedicated promotional or marketing efforts. Find out all you need to know as a new or returning player in this Battlefield 1 Xbox One review.

Most players have either stopped playing or gone off to play Battlefield 5. This leaves the multiplayer part of the game in a questionable state. Acknowledging this prompted me to consider the positives and negatives of Battlefield 1 in its current state. 
Is Battlefield 1 Still Worth Playing?
---
Yes for anyone interested in playing and has knowledge of what to expect from actual multiplayer gameplay.
Battlefield 1 multiplayer is best described as a Player Vs. Player environment styled with elements you would expect from First Person Shooter, Third Person Shooter, and Real Time Strategy video games. The player base is small so if you happen to have the time to spare it can be worthwhile to load up and try to find a match. 
No for somebody who is pressed for time or does not enjoy a Player Vs. Player environment.
It can take a bit of time to find a match. Anyone who has a short tolerance for Battlefield 1 will feel like all the waiting is not worthwhile. Battlefield 1 multiplayer is heavily focused on PvP, strategy, and teamwork. Any player who does not enjoy a competitive environment where mistakes can lead to a quick death will not have fun plain and simple.
Pros and Cons
---
Even if you know what to expect there are legitimate concerns any aspiring player should raise.If you want a detailed overview of Battlefield 1 head over to Wikipedia's page it covers the subject very clearly.
Pros
Battlefield 1 has a fun combat system which makes for interesting matches.

There are tons of weapons and vehicles a player can utilize throughout gameplay.

Battlefield 1 mechanics heavily encourages teamwork meaning your teammates usually have their eyes on the objective.

Community is a small but dedicated bunch with few toxic players.

The customization system is a drastic improvement compared to the ones developed for Battlefield 4 and Battlefield 3.

Class system is balanced in a way that allows a team to adjust to any threat presented.

Losing teams are not punished for losing but given a window of opportunity to turn the tide of the battle.

Gameplay is balanced compared to other titles.

Console platforms do not have to deal with hacking cheaters.
Cons
EA does not have financial incentive to keep old content engaging which is Battlefield 1's biggest dilemma.

Battlefield 1 is a shadow of its former self at peak marketing and promotional efforts.

There is an active player base despite being scattered across platforms but it is very small at this point.

Certain game modes and maps can no longer be played or even found unless you play at peak times. This is extremely discouraging and leaves a bad user experience.

Long loading times in between matches.

Communication between teammates outside of your squad is non existent unless you create a party and invite some people who hopefully join. 

Server browser sometimes shows no results despite the contrary.

Quickplay sometimes places players in an empty server when there are active servers with 1-3 open slots.

Some content is locked behind DLC add-ons which can be troubling to anyone trying things out for the first time with a physical copy of the base game.     
Battlefield 1 can be a fun video game but its multiplayer is heavily reliant on it's player base.
A bittersweet aspect of Battlefield 1. The bitter part is acknowledging that the community is small at the time of writing this and gets smaller when divided by platform and region. The sweet part being is it reinforces Battlefield 1 as a video game that is heavily dependent on its community.
Accessing matches is not as easy as it used to be. Do to the small player size finding matches for some game modes, maps, and regions is not possible. It's not like I can hop on anytime I want and expect to find a match of Frontlines. At this point I can at least find some game modes I want to play.The region that is appropriate for me is small in active servers compared to what it used to be.
How to Find Active Servers.
---
Battlefield 1 is not a lost cause yet there is still hope. Being able to find active servers supports that statement. So long as EA keeps the servers running Battlefield will always have a community. It can be a fun game find out why in my post discussing individual preference in video games. 
The weekly rotation focuses official servers on a different game mode every week. Some challenges can only be completed in specified game modes. Depending on what is on rotation it can be detrimental or beneficial. Finding active servers is easy.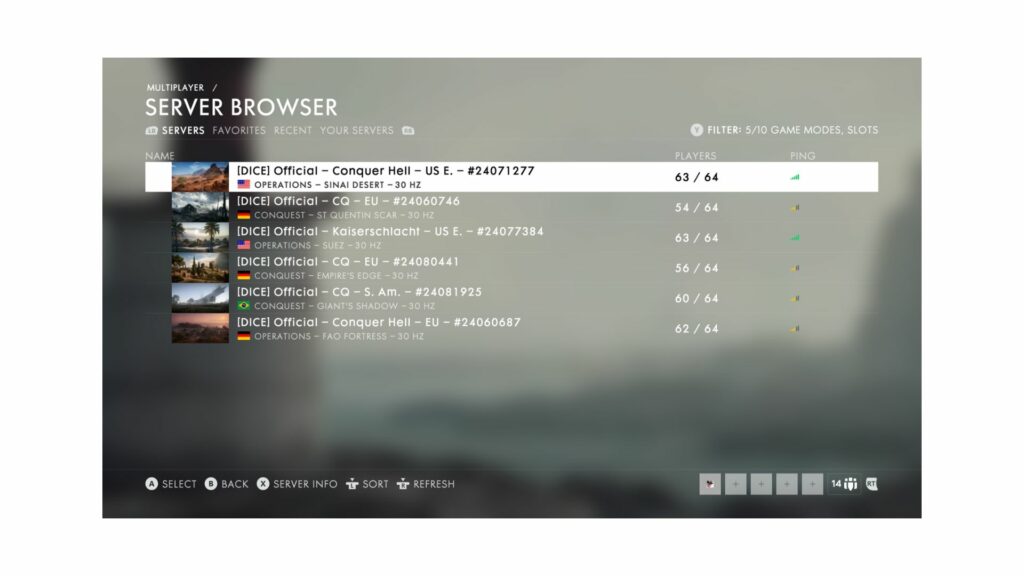 My first option is to hit up the server browser menu. I only adjust the game mode filter and the region filter. Filtering by maps will usually result in no servers appearing for some reason.
When in doubt use Quickplay
---
The Quickplay tab or trending tab in the home menu is a good place to find some matches if nothing shows up in the server browser.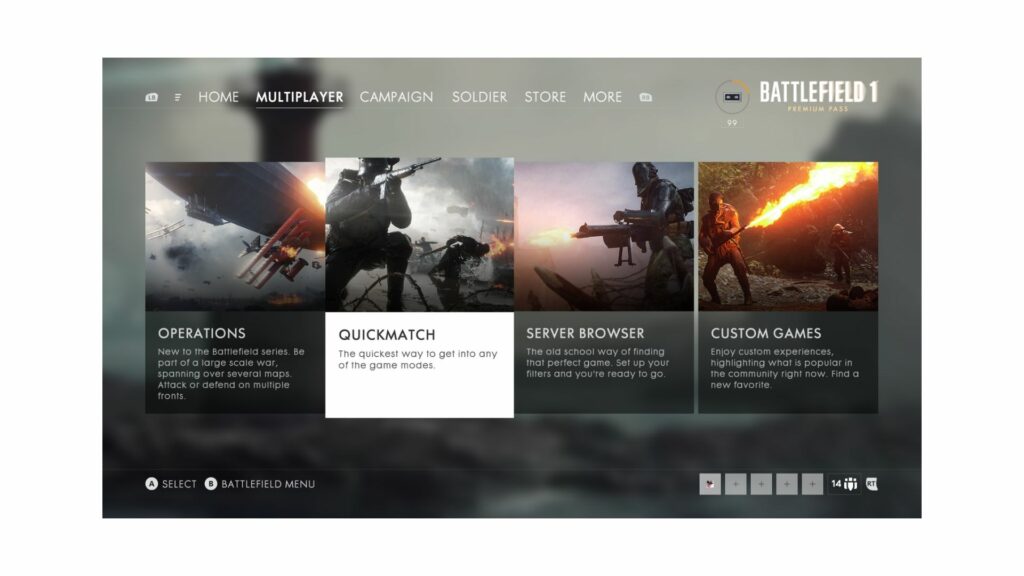 If no active servers show up I head over to the Quickplay menu. Usually I find a match but on occasion I do end up in an empty server. When put in an empty server I quit for the time being ceasing any further activity. Depending on the day and time you may or may not find a match.
Future of The Game
---
Battlefield 1 is a video game that has and always will be dependent on it's player base. The underlying problem with this is what happens when there is no more community. The purpose of this Battlefield 1 Xbox One review is to shed light on the matter.
EA has moved efforts towards Battlefield 5 along other titles they have released. The reduced efforts turned the game into a shadow of its former self. Here is a video of that glorious gameplay during the They Shall Not Pass DLC phase.
Did you find this review helpful? What platform do you or would you play Battlefield 1 on? Any relevant questions or comments are always welcome in the comments section. Take care and good luck out there in the field of battle.
Battlefield 1 Xbox One Review Rating
Battlefield 1 Xbox One Review Rating
Product: Battlefield 1 for the Xbox One Platform
Product Description: The video game is themed around World War 1. The combat mechanics of the game fictionalize the not so Great War in the best way possible. The real world conditions of War World 1 were recorded to be deplorable. Battlefield 1 has a campaign mode and a online multiplayer mode. Most players play mainly for the multiplayer mode. The community on the Xbox One platform is small but active. As long as EA keeps the servers online the community will carry on. If you happen to have the video game already hop on it may be worthwhile to find a match. If you do not own Battlefield 1 yet try out a physical copy of the base game or check out the Battlefield 1 Revolution edition.